*NSFW*
check out actor
Shia LaBeouf
getting explosively sexual and nude in the teaser for his new movie "
Nymphmaniac
", plus gospel singer
Kevin Terry's
oral sex tape performing fellatio on another man leaks…
****IF YOU ARE UNDER THE AGE OF 18 PLEASE DO NOT PROCEED ANY FURTHER****
Actor Shia Labeouf gets sexual and naked in the new teaser for his movie "Nymphomaniac", the actor is filmed naked in a steamy sex/love scene with his female co-star, as they kiss and he performs oral sex on her. The film is still awaiting a release date in the U.S., but for now enjoy the teaser. Can you believe this the same mischievous Shia from the
popular Disney sitcom "Even Stevens"
?
(click on pic to view the video)
Gospel singer Kevin Terry got caught on bended knees (literally), although this time he wasn't praying to Jesus, he was "
allegedly
" servicing another
man's private area
with a hymn. After
viewing the video
, you may be tempted to throw some Holy water at your computer screen, or ask yourself is that the same mouth this man is preaching and singing Christian music with? Listerine won't be able to purify that mouth, so please
click with caution with what your virgin eyes are about to view
. Read Kevin's response below and one of his "friends", gospel singer Lil Mo confirming it is indeed him in the video.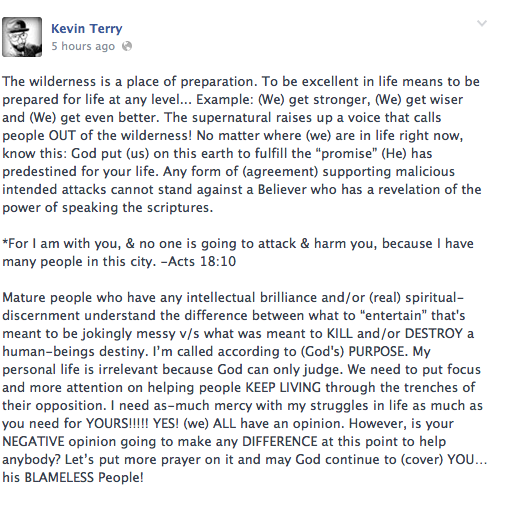 Do you think the Black church will be able to sustain this blow, no pun intended, along with Pastor Eddie Long's "alleged" homosexual relations with underage men, and the hypocrisy of "The Preachers of LA" television show?
Share and Enjoy
3 Responses to *NSFW* Videos: Shia LaBeouf Gets Naked & Sexual In "Nymphomaniac" Teaser + Gospel Singer Kevin Terry's Gay Oral Sex Tape Leaked!